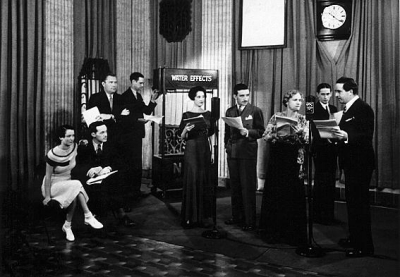 ---
This section consists of a list of programs in the KWD library that were originally recorded and broadcast in the 1930s, '40s, and '50s. As I get the time, I will add and expand descriptions. In most cases, my recordings are in mp3 format. When I have an original transcription disc, I will notate it. The division into decades is somewhat arbitrary as many programs overlapped these easy dividing lines. Yours Truly, Johnny Dollar for example, was first broadcast in February 1949 and had its final show on September 30, 1962, the final broadcast of the golden age of radio drama. In most cases, I have listed programs in the decade in which they first went on the air. In some cases though ( Johnny Dollar, for examle), I have listed them under the decade in which the vast majority of their programs were aired. Also, If a program began in 1938 but the only surviving episodes are from the '40s, I list them under the latter decade.

My collection is nowhere near complete. I don't have every series that's out there and I don't always have every episode in the series I have. As I get new series, I will list them. I am constantly trying to upgrade the quality of my programs. In many cases, the quality of recordings are not really good enough to broadcast, usually because of low sampling rates used to convert them to the mp3 format. As I acquire better versions, I will put them in the rotation. The number of programs in my listings are the number in my collection, not necessarily the number produced or the number of surviving programs currently available. Where I have all currently available episodes, I have annotated the program as "complete."

In some cases, a player appears with a program listing (Thank you to the Internet Archive). You can listen to these programs using this player. You can also download them by following the link above. I will also list my other favorite download sites on the "links" page for programs that don't appear on the IA. (Many of these sites charge a reasonable fee to cover their costs.) Unfortunately, I just don't have the server space to make programs available for download on my own site. Use the links below or in the contents panel on the left to view the program listings.


1930s
1940s
1950s
News
Miscellaneous Programs
---
� 2009 Bill Deming