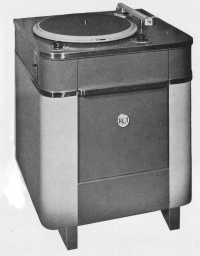 RCA 70-C2
Transcription Turntables
---
The 70-C turntable was a new design by RCA. Although it was mechanically similar to the 70-A and 70-B, it had a completely new look. In this picture from the KRE control room in 1937, you can see a 70-B to the left (connected to a lovely Western Electric 23-series console).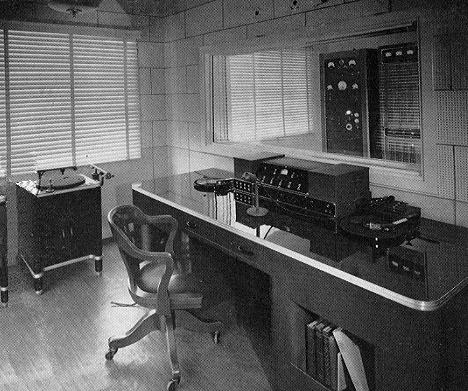 The 70-D, which followed the 70-C, was virtually identical from a mechanical standpoint. However, the cabinet was a lot different, being made from steel rather than wood. This probably made a lot of sense as a manufacturing move but I'm not sure it made much difference in terms of durability. The wooden cabinets on my turntables appear to be in better shape than most of the 70-Ds I have seen. Anyway, here are a couple of pictures of 70-Ds for reference. Note that the turntable in the color photo is missing the RCA "meatball" on the door.
For my money, the 70-C was by far the nicest looking of the lot. You can see pictures of my 70-C2 turntables below, right after I brought them home. I was lucky enough to ger a matched pair (Thanks, Scott!). Both turntables came out of the same studio in a small radio station in Northern California. The first one (serial number C1535) looks a bit rough but everything is there and in pretty good shape. The second one (serial number C1538) looks better but I'll have to strip them both down and paint them. Mechanically, there don't seem to be any major problems, at least none that I can't fix.

| | |
| --- | --- |
| RCA 70-C2 #C1535 | RCA 70-C2 #C1538 |
Here's a shot of the top of C1535. You can see the extra tonearm on the back. The one on the side is original. The toggle switch and the small rotary switch on the right are add-ons and they will have to come off. C1538 has pretty much the same stuff.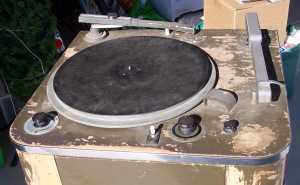 There's a lot of work to do but it should be fun. Click on the links below if you want to see my restoration log. I'll post progress photos as I go along. If anyone sees this and has any tips, please pass them along.

---
© 2009-2017 KWD Radio