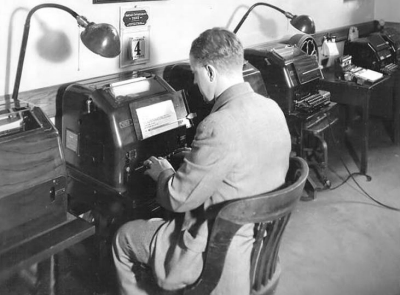 Links to radio-related web pages
---
Please report any broken links.
Thank you.
Broadcast Equipment:
The Broadcast Archive: Barry Mishkind's wonderful site with info on equipment and a lot of history.
Vintage Broadcast Microphones: Invaluable if you have any interest in old mics. A ton of information and some downloads.
Silvia Classics: Their main business is making microphones but they also manufacture very nice reproduction studio warning lights.
Broadcast History Documents: A treasure trove of manuals for old broadcast equipment (among other things).
Ekkehart's Antiques: A wide selection of classic microphones--and they're for sale!
The Coutant Museum: Mostly microphones, but some info on other equipment and some personality profiles.
Broadcast History:
American Radio History: If you're looking for information, this is the place. The best radio history site on the web. A collecection of thousands of periodicals, catalogs, etc. dating back to the early days of broadcasting. Outstanding!
Western Historic Radio Museum: A very nice site with a bunch of information and great photos. Sadly, the museum itself is now closed.
Bay Area Radio Museum: I really like the station histories on this site.
Elizabeth McLeod's Broadcast History Resources: She's one of the real authorities on radio history.
Old-Time Radio:
The Internet Archive: More stuff than you can imagine, and not just radio. I have linked directly to the OTR section, for obvious reasons.
EY's Audio Links: A far more comprehensive list of OTR links than I could ever hope to compile. Worth a visit just for the Gracie Allen poster.
Randy's Old Time Radio Shows: Randy has an excellent collection of shows and I've filled a lot of holes from his site. He charges modest fees for downloads in order to cover his costs. I highly recommend this one.
Vintage Radios:
Phil's Old Radios: Probably the best site I've found for information on restoring old radios.
Miscellaneous:
The Digital Deli: This is an outstanding site. It has a little bit of everything. In addition to a large library of radio programs, they have information on just about everything from the Golden Age.
---
© 2009-2014 KWD Radio