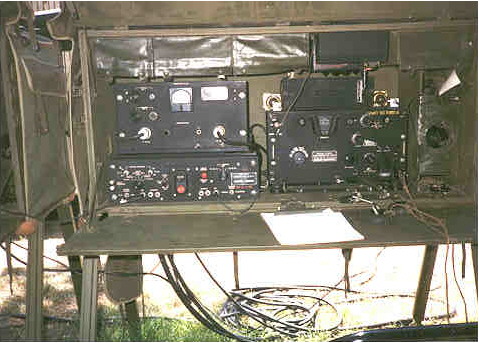 Some of the components that make up an SCR-399 station
---
Amateur (Ham) Radio

I suppose it was inevitable. After years of collecting vintage broadcast equipment, the ham bug bit me. Most of the people that I've dealt with while searching for this stuff have been hams and it seems like all of them have told me, "You should get your license." I finally succumbed and got my ticket. I currently hold a General-class license, although I will eventually upgrade to Amateur-Extra.

My tastes in amateur equipment tend in the same direction as my broadcast equipment interests. I have acquired a few pieces that are definititely classic but that don't really fit in a 1940-ish setting. The BC-610 was a standard Army Signal Corps transmitter (also used by the Navy) that was originally designed by Hallicarafters in 1938 as the HT-4. The Army made some changes to the basic design, mostly to "harden" it for field conditions. But the basic design didn't change, except for the removal of the chrome trim. After the war, the unit was re-designed. Nine series of the BC-610 were finally produced. The first five (BC-610A-E) were more or less based on the original configuration. Starting with the "F" series, the enclosure was simplified and the number of meters on the front panel was reduced to three. My unit is a BC-610-F. Like many electronic units produced for the miltary, at least three manufacturers made BC-610s. As far as I know, all the A-E units were produced by Hallicrafters themselves. I believe that the "F" model was produced exclusively by Bogen. In any event, my BC-610F is a Bogen. I can't conclusively prove this but all the BC-610Fs that I've seen seem to have been made by them. At least some BC-610s were also built by Barker & Williamson.

I'm currently trying to find a pre-war ham transmitter. My ideal unit would be an RCA ACT-150. This was marketed to the amateur market in the late '30s but it was used by a few low-power commercial stations as well. Also, at least one commercial station used an ACT-150 to communicate with remote transmitters. Thordarson produced a couple of nice transmittersin kit form but I have yet to come across one in real life. My Collins R-388 receiver was an Army unit as well. I will likely pick up a BC-342 receiver at some point, as this was the receiver most commonly matched to the BC-610. But enough of my Yappin'. Let's look at some equipment.
Transmitters
| | BC-610F |
| --- | --- |
| | Harvey Wells TBS-50A |
Receivers
| | Hammarlund SP-200SX |
| --- | --- |
| | Collins R-388-URR |
---
© 2010–2012 KWD Radio