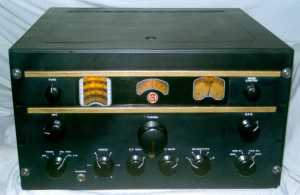 ---
This page will be used to display some of the radios I have, some of the radios I would like to have, and some of the radios that I just like.
---
Addison
I'm not usually drawn to plastic sets, although they're hugely popular with collectors. Addison radios are different, especially the Model 2. I'm told this radio came in 36 different color combinatinations and all that I've seen are very nice looking. They were made in Canada and I believe the year of production is 1940. I will probably have to win the lottery before I get one of these as they usually run well into four figures.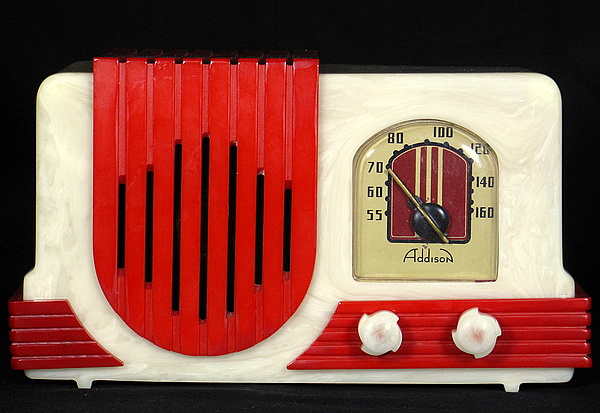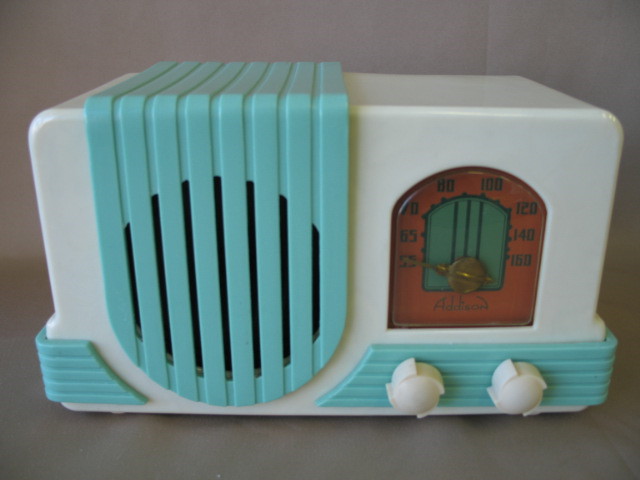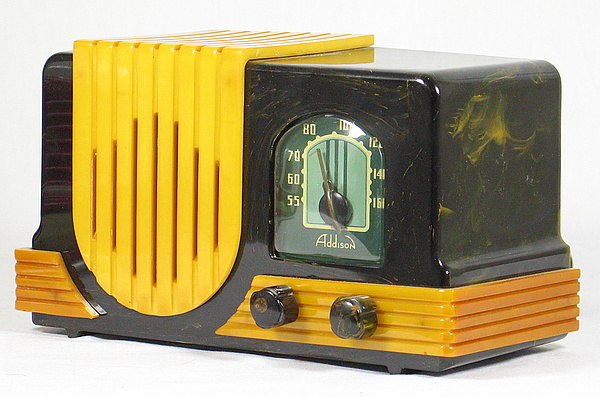 ---
Emerson
Emerson made a lot of very handsome radios, often using Ingraham cabinets. The AU-213 is especially nice. I don't have one yet, but I'm looking.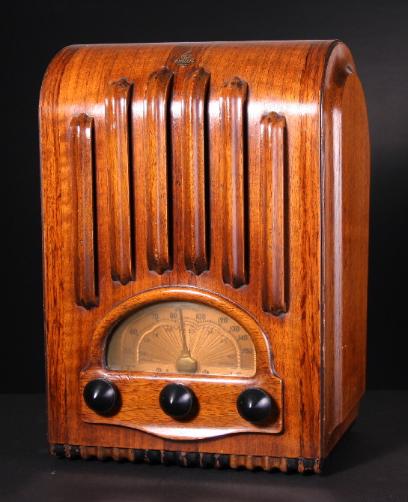 ---
Fairbanks-Morse
This first photo is of a Fairbanks-Morse Model 8A Console from 1936 that sits in my living room. Next to it is a picture I found on the web of the same model. It came in different cabinet styless and I haven't seen many in this style. I found mine in a junk shop where it was being used to provide music when I spotted it. I love the big oval dial.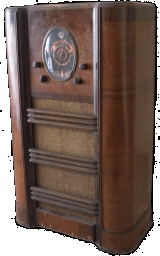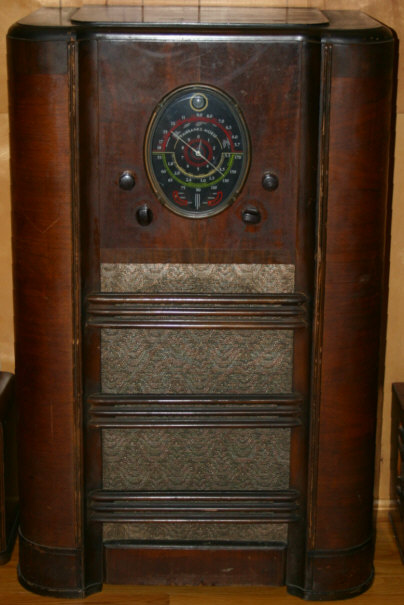 For some reason that I can't explain, I am attracted to Fairbanks-Morse radios. I own three, two of which are in working condition. The console pictured above works just fine but the cabinet could stand to be re-finished. I'll get around to it one of these days. I also own a 1935 Model 5B tabletop that was restored about ten years ago by Bill Meacham at The Sparkbench. He did a lovely job and the radio still works just fine.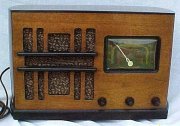 My final Fairbanks-Morse is a Model 72 tabletop. I picked this up several years ago and haven't gotten around to restoring it yet. It's a great looking radio, though. I managed to find an original F-M service manual for this radio. If anyone is interested, I've scanned it and created a pdf file. I "borrowed" some photos of a restored example to show what it looks like.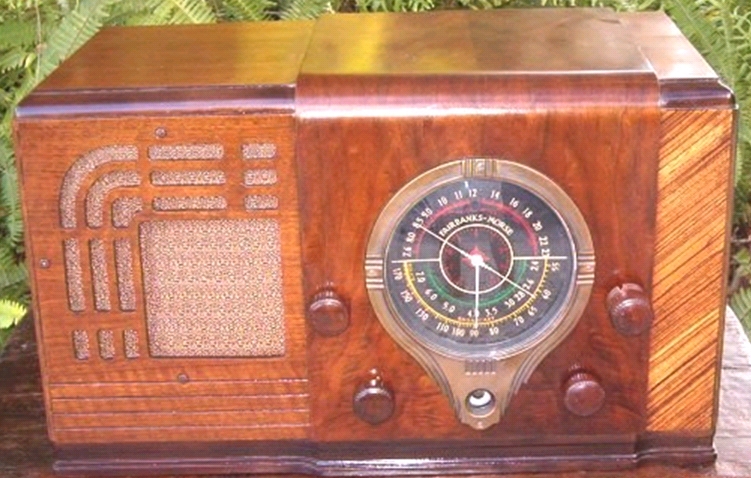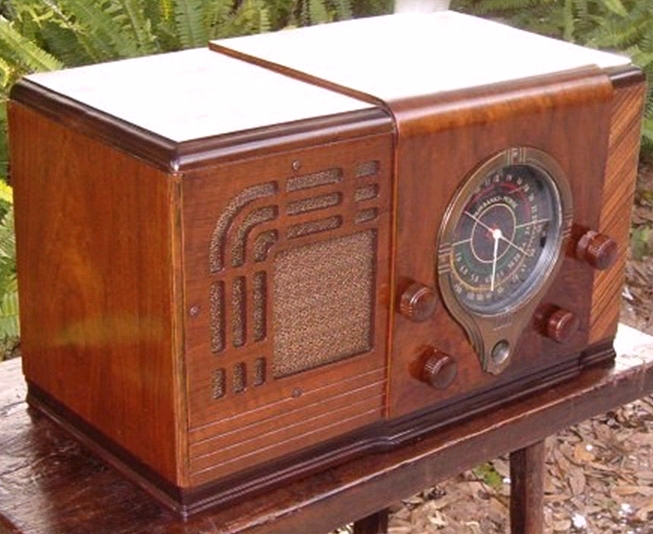 Fairbanks-Morse was best known as a manufacturer of industrial equipment, producing everything from electric motors to diesel locomotives. However, they also had a consumer products division that made radios and other household appliances. I like their radios.
---
RCA
The radio pictured at the top of the page is an RCA AR-88. It wasn't really a consumer radio but was very widely used in commercial and military applications. I really want to get one of these eventually. Fortunately, there are quite a few around as the US and allied militaries used these (and several variants) extensively in WWII.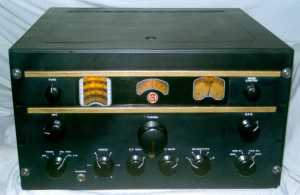 ---
Silvertone
Silvertone was the house brand for Sears, Roebuck & Co. I only have one of their radios but I like the looks of nearly every model they made. I am especially fond of the Silvertone 4663.

I have lusted after this particular model for years. It's probably my favorite radio. They do come on the market from time to time but I haven't managed to snag one yet. One of these days...
My wife bought the following radio for me recently. I believe it's a 4568 from 1936/1937 (although I would like to be corrected on this if someone knows better). It will live in my office at work. It's in wonderful condition and plays beautifully. It will pull in the stronger local stations clearly with no antenna at all. The tuning eye works too.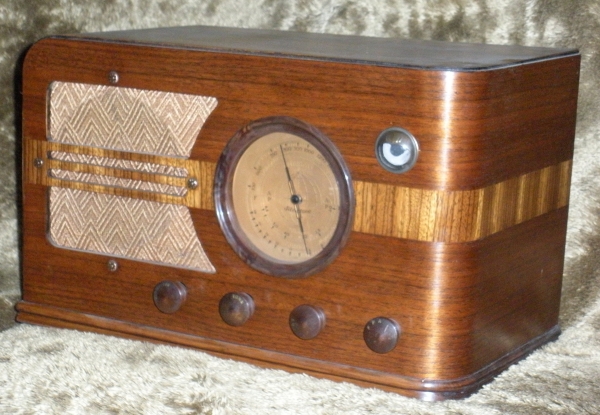 I absolutely love the golden dial...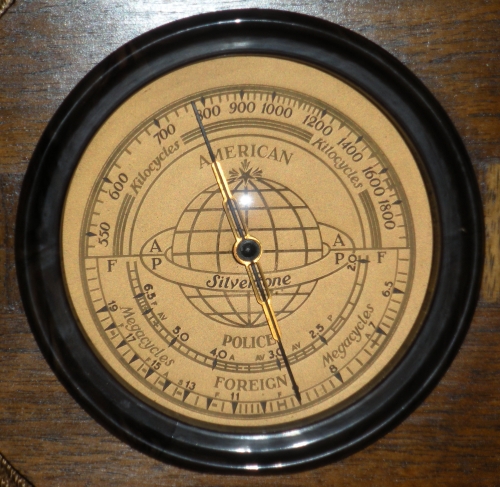 I also have a Silvertone Model 1947 tombstone (picture to come). It's a nice looking radio but it's a farm set, which means it takes a couple of different kinds of batteries. I have a working chassis that will work in this cabinet, so I'll probably just switch it out.
---
Zenith
This seems to be the most widely collected brand out there. I only own one Zenith and I'm afraid it's pretty much a total loss. There are a number of Zenith models I would like to acquire, however.
---
© 2009-2012 KWD Radio